The best nightlife in Barcelona at Maison Close BCN
It's time to enjoy every second, succumb to all your whims and forget about monotony and boredom. It is time to forget about taboos and prejudices and focus all energies on desire and enjoyment. It is time to experience the most absolute pleasure and live a night of fireworks in the city. It's time to enter Maison Close.

Here you can meet the best luxury escorts in Barcelona, ​​beautiful women with goddess bodies that will make you laugh like never before and enjoy a unique night. Lose track of time, enter the depths of their eyes and be dazzled by their perfect smiles because these women are true beauties that will remain in your memory forever.

Forget each and every one of your worries, the stress of work and the hustle and bustle of everyday life because now is the time to have a great time, enjoy the magic of the night and have an unforgettable adventure with a Barcelona escort. At Maison Close we are waiting for you with the door open!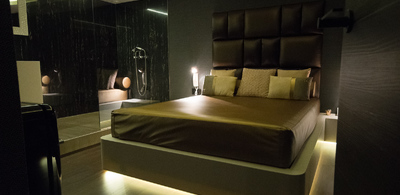 Room Sensaciones
The gold, bronze and glitter that emanates from this room surrounded by luxury and designed with the highest quality materials give this room a five-star hotel quality.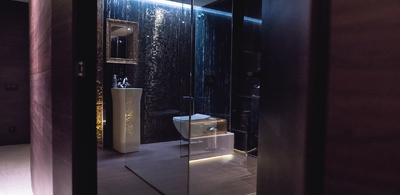 Room Tentación
This room will awaken your most primal instincts and will create a desire that you will not be able to suppress. An incredible atmosphere that will take you to another dimension and captivate you with its luxury, elegance and style.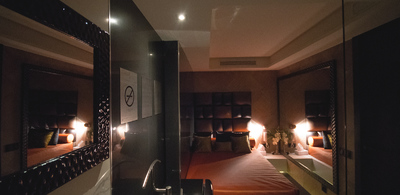 Room Pasión
Style and pure elegance are the key points in this room with warm, coppery colours. The Pasión room is a place that exudes magic and exquisite taste that will captivate all your senses.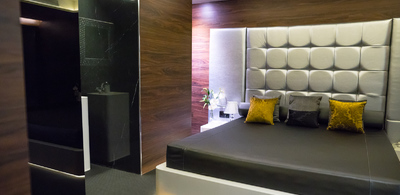 Room Luz
This room is the perfect mix between luxury and comfort. The king size bed and the glass-enclosed bathroom provide the necessary comfort to enjoy a high standing experience.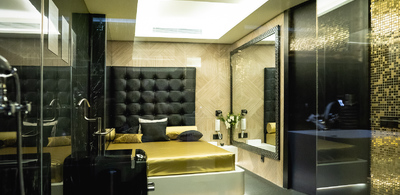 Room Reflejos
One of the most elegant and refined rooms, it is an ode to modernity. The rectangular lines, the materials and their finishes create the perfect reflections for an impeccable room.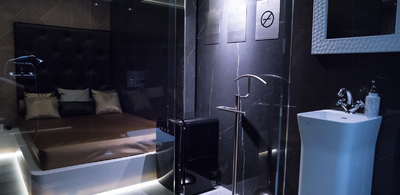 Room Amantes
The dark tones of this room will activate all your senses thanks to its contrast of lights and shadows that give it a touch of incomparable seduction. The class and luxury of this room will completely make you fall in love.
Our facilities
Our premises are located in the heart of the city, 5 minutes from Sants station and 15 minutes from Barcelona Airport. It is perfectly located in one of the most emblematic districts, in a high-class area of ​​the city, and here you can meet the best escorts in Barcelona.

The entrance door to Maison Close is characterized by its discretion. It is perfectly camouflaged with the facade so that your access does not raise any suspicion and you can enjoy your adventure with total privacy.

Maison Close is pure elegance and sophistication, a high standing experience where you can enjoy a wonderful atmosphere, meet the most beautiful, cultured and intelligent Barcelona escorts and enter paradise through the front door. Let yourself be carried away by the magic of the place, by the enveloping atmosphere and by the wonderful decoration because an incomparable experience awaits you.

We are waiting impatiently for you!